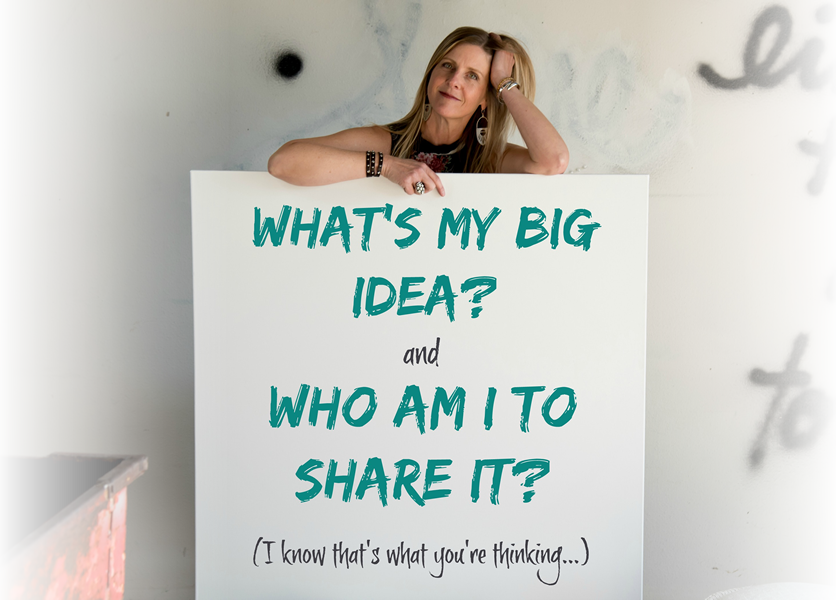 As a wildly creative Soul, it can feel daunting to pick an idea and stick with it – there are so many things you are good at and want to express!
It's like a blank canvas staring at you on the wall saying: "Get started!" and "Choose something!" So you make a few hesitant marks hoping that it will turn into something, and you're never quite sure if you have what it takes to bring it all together into a cohesive picture that others will "get."
(Or that YOU will even get!)
Whether you're considering sharing your CORE IDEA on a stage like TEDx or just wanting clarity on why you can't let this idea go, but you're not sure why (or even if) YOU'RE THE ONE TO SHARE IT…
Welcome.
Step into my studio where we will look at WHO YOU ARE and how you are perfectly designed to share that idea – and how to do so SO DAMNED AUTHENTICALLY that it will flow through you as easily as watercolor on a wet canvas…
Here's what I've learned: While the "idea" is important – it's not typically the thing that hangs people up.
Nope.
What stops people from sharing it (or sharing ALL the creative ideas they have!) is lack of clarity, courage, and conviction.
And what's really fascinating?
It's lack of clarity, courage and conviction about themselves, NOT the idea.
Somehow the two are inextricably linked, especially when the idea is related to your Soul Purpose. It's too darn close to you to see how it all goes together and why.
Instead of honoring the Sacred Inspiration, it's all too easy to stay stuck in the scared inhibition.
This inhibition is the root of SELF-BETRAYAL and it is the killer of dreams…and ideas.
My friend, it's time to move from #scared2sacred.
Whether you are a speaker or not, I recommend starting with the FREE "Backstage Pass" to TEDx – the place where ideas are honed and shared freely.
You'll discover:
•    What it takes to craft your idea
•    What is an idea worth sharing (whether you ever share it on TEDx or not)
•    What I wish I knew before I applied and after I was accepted
•    The lessons I learned as a TEDx speaker that will help clarify your life purpose, your business, and sharing your idea
•    How to know why YOU are the one to share your idea
…and much more, including what self-expression and self-betrayal have in common, and how these are the key to liberating your voice, your idea, and your life!
No matter who you are, no matter how clear you are on your idea, and no matter what you want to do with that idea, there is a reason it keeps following you around.
Discover why YOU'RE the one to share it, and how best to do that…
From My Heart & Soul to Yours,
Kris