Below you'll find a couple examples of me speaking. While my audiences range from the Tedx stage in front of a 1400+ live audience to roomfuls of 200+ women entrepreneurs, and even smaller, more intimate gatherings with men and women, along with live interviews on radio, my focus and intention is always the same: Show up professionally and authentically and give each unique audience my best content in a way that's entertaining, educational, inspirational, thought-provoking, and tailored for how listeners will best receive the message that wants to come through me.
My favorite topics to teach (and audience favorites too!) include:
Sacred Leadership: From Polarity to Alchemy
How to Trust Your Truth & Intuition and Move From Scared2Sacred
(All can be tailored for both business and family/parenting audiences)
See below to find out how to book me for your next meeting, event, or radio show.
Watch Kris giving her 2015 TEDxBend talk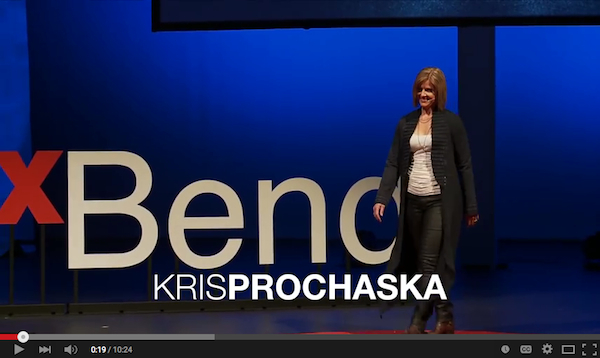 Watch a video clip of Kris speaking here:
To book Kris for your next event email
Kris at KrisProchaska.com or call 425-890-1187
What others have said about Kris' presentations:
Seeing and hearing Kris on stage convinced me that she is definitely someone who I want to continue learning from. Kris has the quiet strength of a true teacher. I'm glad to have the good fortune of having her as a colleague and a friend. Al Foxx
Kris grabs your attention when she speaks by being authentic, energetic and engaging. She has an important message for women. I can't wait to read her book. She does her homework. Mark Matteson
Kris was the keynote speaker on the topic of leadership for the annual awards tea of our mother and daughter philanthropic organization. From planning to presentation, my experience with Kris was delightful. She had the unique ability to inspire and motivate women of all ages – from 12 to 60. Thank you Kris for a beautiful message!" Stephanie Huling
Thank you again for speaking at District 2 Toastmasters 2012 Spring Conference. Thank you for investing the time and effort to help make our conference a success! Thank you for showing up, on time, and prepared. Thank you for making my job easy. It was a pleasure to work with someone as professional as you. I heard great things about your session from those who attended!" Theresa Frasch
Outstanding presentation, Kris!!!! SB
Thank you for your talk. I'm going to speak to my grandchildren from my Inner Voice, because I know I parented my own kids from my little voices and I want to do it differently!" Audience member
The best [meeting] so far. Thanks Kris for an excellent presentation. I learned a lot! EG
LOVED meeting with everyone. Kris Prochaska totally rocked her presentation too! Cannot wait to start reading her new book! JE
Good way to start of 2013! Kris's presentation was great! audience member
Great presentation! Kris had a good voice and was inspirational. audience member
Thanks for putting on the marketing workshop here at Seattle University. Even though I am one of the three grad students taking it, the material is so helpful. It helps maintain a mindset, from the very beginning, that I am not only a helper, but a business owner. PF
What an inspiring talk! Awesome content ;). M, audience member
Kris, I enjoyed your talk on Thursday at the Seattle Design Center. It resonates with an approach I use in my strategic business consulting. AL, audience member
Kris, I really enjoyed your talk at the Seattle Design Center last week-thank you! RM, audience member
Just had a consultation with someone that was at the meeting last Wednesday. She mentioned she loved the grounding exercise and the fact that you did it with all of us at once and the energy of the room shifted. Thank you for sharing your uniqueness and gifts with us! RB
Working with Kris is an absolute joy. Her enthusiasm for life and purposeful work is infectious and she will help you understand what it will take for you to be at your most effective in whatever you do. K.O.,
I wanted to tell you that I really enjoyed your talk and took away very good reminders – even answers to an aggravating dream I had this morning!
The energy thing you spoke of…I felt the 'skepticism' in the room and yet my 'essential me' was getting goose bumps. It was an odd sensation of two things warring with each other and clarity was found on my way home alone in my car. Here was another example of discerning!
Thank you – I took away much! Parent, Cascadia Elementary School
Thanks again for such a wonderful talk last night, you totally delivered on exactly what I was hoping for. People were engaged, intrigued and receptive. Yay! JG, Seattle, Cascadia Elementary School
To inquire about speaking availability and fees please email or call me at 206-4VOICE8.
Kris has had the pleasure of speaking at the following organizations: